Reading Trampoline Club
Trampolining

Welcome to Reading Trampoline Club. This site aims to provide useful information to its members and to the general public wanting more information on the fantastic sport of Trampolining !
***WED 13TH JANUARY - THE SCHOOL IS OPEN TODAY, SO TRAMPOLINING WILL TAKE PLACE TONIGHT IF CONDITIONS REMAIN AS THEY ARE. ANY CHANGE TO THIS WILL BE ANNOUNCED HERE. ACCESS TO THE SPORTS HALL FOR CARS WILL BE DIFFICULT, SO TAKE EXTRA CARE.***
News

Check out our whats new page for revised qualification scores grade 1 only (rest to follow).

The changes have been made due to the tough marking system now being imposed, bringing the UK in to line with the rest of the world.

All changes are retrospective and apply to all grade 1 competitions this year.

Grade 2,3,4 and 5 qualification scores have also been changed please see your coach for further information on these changes.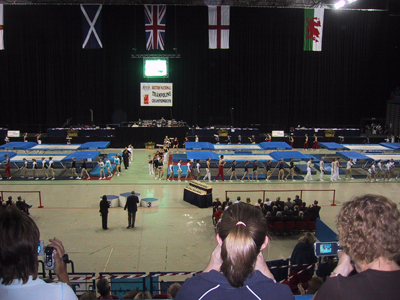 2007 Season well under way
With the 2007 season underway Reading were represented at the 1st grade 1 of the season by Jason Holland and Deborah Netton both who put in strong performances in the first round scoring well with some very critical judging.
Dugald was the attending coach offering advice and support.

See more reports from Reading Trampoline Clubs Competitions by following the Reports and Results link !
Contact Details
We have coaches qualified to teach from complete beginner right though to International Level.


Coaches

Dugald Davidson
Rachael Neighbour
Kerry Neighbour
Katie Cussen
Assistant Coaches
Paris Millard
Harriet Jones
Laura Jane Robinson
Amy Holder
Hannah Rixon